Even the most experienced journalists are confirming that restrictions on cost free parking in non-parking areas are very common and that there are relatively few exceptions. Although there is no legal right for a car press sign, there are usually no problems for vehicles displaying the car press sign while working in the field. The ifnm car press sign can make the difference!

Using of car sign "PRESS" during car driving for urgent business concerned with journalistic activities is allowed. However using of car sign "Press" does not release an agent from keeping to road laws.

Journalists, photographers, bloggers, part or full-time journalists and freelance news gatherers working for the international, national, regional, local or online press can apply for a Press Pass through ifnm.

Parking permits, issued in some jurisdictions, exempt news vehicles from certain parking restrictions while on the job. They may be offered to any news-gathering organization that covers breaking news for use in company vehicles employed by full-time or freelance reporters, photographers, and camera operators. Often, these permits are only granted to journalists who already carry a Press Card.

Think of the possibilities. As an official Press Correspondent, you will be able to attend many newsworthy events and report on them. If you have ever dreamed of being a Press Correspondent, here is your chance!



International parking permits

In addition to the press card we are also offering ifnm members the option to purchase an ifnm press sign for their car. In combination with a valid Press Card, the car sign is valid till December 31, 2024 (one time fee US $ 20).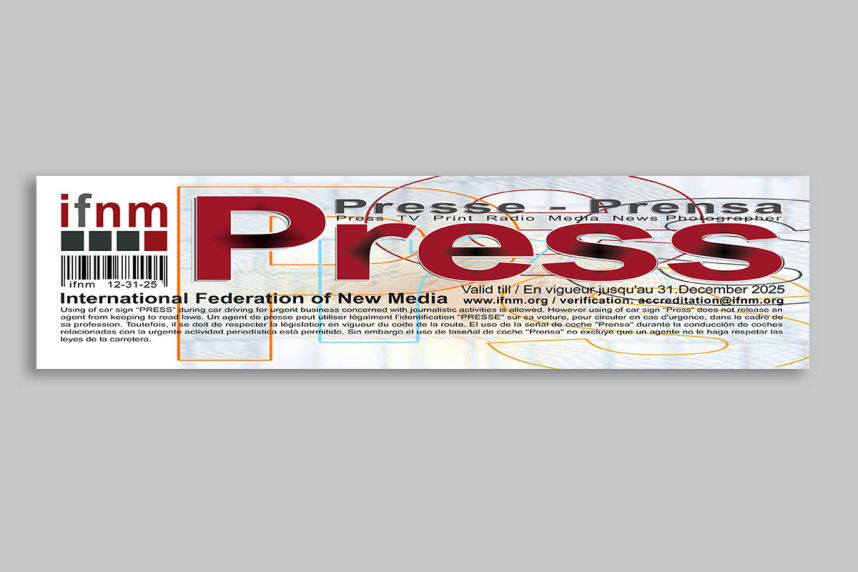 40cm x 10cm
---
|
|
Copyright © 2006-2021 ifnm All Rights Reserved